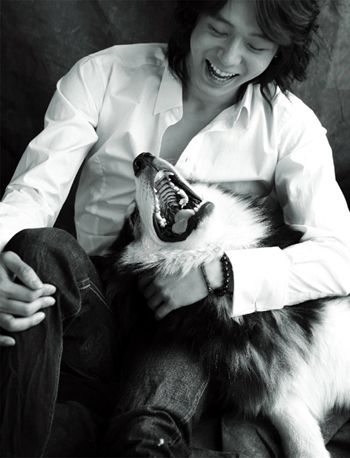 So I recently joined this contest by Tony Moly Philippines where fans would show how much they love Park Yoochun. And while I was whiling away with my thoughts on the bus ride home, trying to think of how to get people to see and like my submission, I realized that preparing for a contest piece, let alone joining the contest isn't enough for me to be able to show how much I love him.
To be honest, I was hesitant to join at first. I wasn't sure I was creative enough and I didn't really have the time to prepare something given my current hectic schedule at work. But a few of my new found friends prodded me a bit saying, "Hey, what's there to lose? You're just going to show him how much you love him," and in the end I decided to record a Korean song, one that I loved and at the same time, one that could deliver a bit of what I wanted to say. Granted, it is a bit sad but it is about a first love and how I would always cherish the feeling and memories of that first love in my heart.
Among the three of them in JYJ, I met Yoochun first through Sungkyunkwan Scandal amidst my KDrama addiction mid last year.
After getting hooked to the drama's main theme song, "찾았다", I got to know and soon became a fan of JYJ. I actually liked Jaejoong first but Yoochun won me over after I got to watch Tohoshinki's performance of Proud in their Five in the Black Concert.
When I saw him break down and cry while he was in the middle of singing his solo, I couldn't hold back my own tears. Call it ugly sobbing if you will but I just couldn't stop crying with him.
It was as if I could sympathize with how overwhelmed he was seeing the fans they've gained in Japan after all their hardwork. I wanted to hold him. I wanted to tell him it's all going to be alright now; that he'll get through all the odds if he just puts his will into it.
All I could think of was this young boy who went back to Korea on his own to start a career as a singer to help his family make ends meet. I was amazed by his love for his brother and his mother that I wanted to get to know him, to steal him away from everyone even for just a day and just talk and connect with on a more personal level.
Right then it became a pact, one that promised to follow him whether through hardships or triumph, if only to support him in any way that I am able to.
Despite being idolized by many around the world, I still see him as a normal human being with flaws (more than most fans would probably care to admit) but somehow I am still able to see past that—to give him the benefit of the doubt, to give him a chance, to accept his right to privacy—because with the life that he has, it's all smokes and mirrors. Sometimes what you see or think isn't really what it is. And most of the times, there is always more to the story than you can ever comprehend.
I guess that right there is what you call an unconditional love—to love someone and see past their flaws; to love them and not be ashamed of the love you feel for them.
And I know, dear reader, that you might be asking, why exhaust all my time, energy, and yes, money, on a Korean man who most probably will never know I exist? It's because all the time and energy that I put into whatever feelings I have for him is what keeps me going on. It's what keeps this rusty heart fueled up and kicking myself into gear.
My love for him cannot be summed up into just two or three sentences. Even after nine or ten paragraphs down, I don't think I ever really got to completely describe how I feel but one thing for sure is this:
I have never been as happy as I am now after I had met him. I never imagined myself getting into the whole KPop culture but look at where I am now. In just a few months, I was passionate about wanting to learn Korean. In just a few months, I've gained a lot of friends along the way.
I am deeply touched whenever people come up to me on Facebook or Twitter saying how they found my name on instagram or JYJ3 and how they admired how dedicated and passionate I am about Yoochun and JYJ.
Believe me, I wouldn't be here if it weren't for their talents that continue to amaze me up to this day.
In spite of all the hardships and struggles, in spite of all the pain, I will be here. And this love and faith will live on even if three hundred years would pass because I believe in him. Forever and always.
유천아~ 언제나 믿어요~ 언제나 사랑해~
Yoochun-ah~ I will always believe in you~ I will always love you~