Just last week I got the case of the common cold after spending some time walking in the heat. Mind you, I didn't really spend time walking under the sun but the heat and humidity was unbearable that even though I took a covered path I started sneezing a few minutes after I got back to our office. The common cold got worse come Thursday and I was lucky enough that it only got worse then as we had no work since then until Monday this week because of the Holy Week and Araw ng Kagitingan. I spent most of the entire Thursday on my bed, sleeping because of the side effects of the medicine I was taking that I only came out of the room to eat my meals and drink medicine.
The following day was almost the same.
Come Saturday I was starting to feel much better.
Sunday – we had to leave the house to attend Mass as we traditionally do during Easter Sunday. We attended Mass at Don Bosco Makati and after that my dad decided to have lunch at Paseo de Sta. Rosa. That's when I got exposed to the heat and humidity outside again and somehow that triggered the cough I am experiencing now.
It also didn't help that I spent my Sunday afternoon and entire Monday helping my mom rearrange stuff in our room because by the end of the day, I got an itchy left eye and a stuffy nose again. Come evening, I was coughing like a mad dog that I decided to text my project manager asking if I could work from home the following day.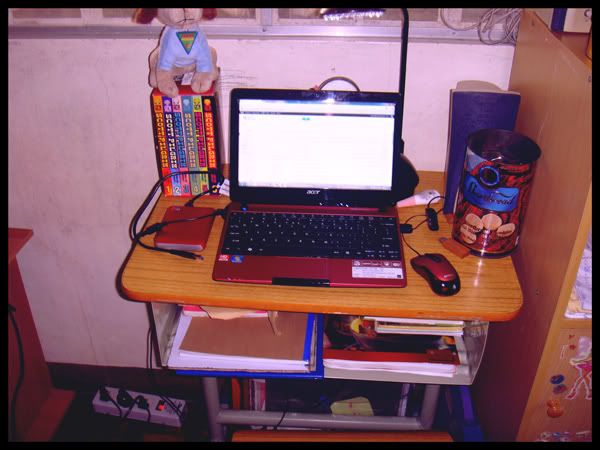 My mini work desk at home
I spent my Tuesday in front of my desk most of the day to work, i.e. answer feedback from clients, monitor exception logs, and implement some quick fixes. I guess it was better than if I went to work that day as I got to relax a bit and be in my own element. It also helped that I didn't get to experience the air pollution in the city during my daily commute to work and back home. But still, I couldn't stop coughing every now and then. I was starting to get breathless.
It took me a while to get to sleep last night because of the non stop coughing. My sister couldn't sleep either as she kept hearing me cough. And earlier at three in the morning, I woke up because I started coughing again and I found it hard to get back to sleep because of the itch I had in my throat and it was hard to breathe.
During breakfast today, my mom decided that I should probably use the nebulizer today. I don't really have asthma but my family has a history of asthma and I've had recent history of feeling out of breath and one of the doctors I consulted suggested that I may not have asthma but I was on the borderline, meaning I could get there.
My best friends for today and the remainder of the week
I've used the nebulizer twice today and will use it again shortly. It has lessened the coughing and alleviated the feeling of being out of breath. But my mom suggested that I work from home until Friday so I could still use the nebulizer thrice a day and won't be in danger of getting worse again.
I can't believe I've actually spent my week sick. The last time I was like this was almost two years ago.
Here's to hoping I get well…soon.